---
Vol 52 No 2 Winter 2022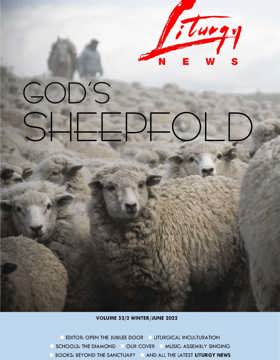 Editorial
Open the Jubilee Door
Elich, Tom
Every 25 years, the Church celebrates a Year of Jubilee. So Pope Francis has announced a Jubilee year for 2025 under the theme of Pilgrims of Hope. It is still quite a way off but it will be worthwhile to do some serious thinking and planning in the next couple of years if it is to bear good fruit.

Leviticus 25 describes the Jewish origins of the Jubilee held every fifty years. Land was left fallow (to allow it to regenerate) and there were complicated rules about land use and ownership. It is not clear how (or if) they were implemented in practice, but the Jubilee represented an ideal where all land belongs to God and is given to human beings for their use, based on deeply religious concepts of justice and equality. Debts and bondage were dissolved. Thus a Jubilee marked a new beginning.

We find strong resonance here with Laudato Si', Pope Francis' 2015 encyclical letter on the care of the earth, our common home. It is about protecting the environment with which we have been gifted by God, but equally about a just share for all humanity in the world's resources. This gives us a strong focus for our liturgical prayer in the jubilee year. The Jubilee pilgrimage is intended to offer a message of hope for the impoverished, the oppressed and disadvantaged, the marginalised and rejected.

The Christian Jubilee dates from 1300. It involved a pilgrimage to Rome, visits to its major basilicas and receiving an Indulgence (the blessing of God's mercy). Notably, a Holy Door was opened which pilgrims would pass through. In time, the celebration of the Jubilee with the opening of a Holy Door was extended to other dioceses and shrines around the world. It will be a disaster, however, if in 2025 we focus on passing through the Holy Door to 'gain' an indulgence as a private and quasi-magical spiritual benefit. Where then is the new beginning of justice and respect for the earth and all the people who live here?

Entering through the Jubilee Holy Door is meant to mark a reorientation of mind and heart, a conversion, which brings us to recognise the world as the handiwork of the Creator God, entrusted to the stewardship of human beings. We come to see with new eyes how we are part of the total environment and share responsibilities for its well-being and for the dignity of all our brothers and sisters.

THE DOOR AS THRESHOLD

The Holy Door, which has become a key symbol of the year of Jubilee, suggests that we might consider the door of our churches. The Book of Blessings (BB 1216) notes that in construction, design and decoration, church doors should stand as a symbol of Christ, who said: 'I am the door, whoever enters through me will be safe'. Passing through the church door is therefore an encounter with Christ. Both architecturally and symbolically, the church doorway as a threshold, a liminal or transitional space, takes us from ordinary life into the sacred space where we are about to encounter the mystery of God's saving action. So it is more than a functional access point. Passing through the entrance to join the liturgical assembly is transformative. (See And When Churches Are To Be Built… Preparation, Planning and Construction of Places of Worship 213-214, 489-492).

I suspect that a review of our church doors will reveal at once how inadequate most of them are. Sliding aluminium doors, cluttered with newsletters, out-of-date brochures and lost property, hardly serve to inspire. Often the church door is a mere portal –one step takes you from outsidedirectly to the back seat of theassembly, without an opportunity for atransition. Entrances that are dark ornarrow, or locked behind fences andwalls, may appear inhospitable.Confronting many steps may bedaunting for visitors who approach the church.

The Jubilee year would be a good opportunity for the parish to review their entrance spaces and evaluate how the church presents itself. How well does it express hospitality and welcome? How do people arrive at the church and enter? What can be done to improve the arrangement? Perhaps a set of beautifully crafted timber doors will illustrate their significance. Perhaps an approach through an attractive landscaped forecourt will inspire and set people at peace with the world. Perhaps establishing a reflective space inside the church doors, separate from the worship space, will facilitate recollection – instead of a notice board, a prayer shrine for the parish patron, for example. (See Fit for Sacred Use: Stewardship and Renewal of Places of Worship 952-965). A construction project like this need not be enormously expensive, but it will require thought, study and communal discernment, probably with the assistance of an architect. That is why it should begin now so that it will be ready for the Jubilee year in 2025. The Jubilee Holy Door, rather than just being a temporary installation for a few months at the cathedral, can become an integral part of the Sunday experience of every parish community.

As the building project comes to fruition, the Holy Door will provide a wonderful opportunity for formation on welcome and hospitality. Open doors presume open hearts, ready to receive refugees and the homeless, First Nations families, people who identify as LGBTQ+, those who are divorced and remarried, and so forth. The Church and, more concretely, our parishes are meant to be a sign of God's kingdom which gathers 'people of every nation, race, tribe and language' (Apoc 7:9). As we pray in one of our Eucharistic Prayers: You have brought together one Church from every people, tongue and nation, and… you never cease, through her, to gather the whole human race into one (Various Needs 1). Those who take part in the eucharistic offering are not only those gathered in the liturgical assembly but also your entire people and all who seek you with a sincere heart (EP IV).

Thinking through issues like this will be a great challenge for many Catholics, but is not this what a year of Jubilee requires of us? Is this not how our Holy Doors of hospitality should work?